Candy Cane Rope Lights Outdoor Lighting Manufacturer For Holiday Decoration | ZHONGXIN
Product Detail
FAQ
Customization Process
Quality Assurance
Product Tags
Outdoor waterproof battery box: led candy cane rope lights are equipped with waterproof battery box, which has 3 functions of timing (6 hours), on, and off, normal operation in rainy and snowy days;
Safe and reliable to apply: copper wire lights covered with soft and sturdy PVC Tube, making it waterproof and has good flexibility, easy to be twisted into any shape you like, or decorated in any place, reusable and long lasting, can be applied for a long time
Multiple applications: battery operated candy cane string lights are suitable for both indoor and outdoor decoration, practical for adding festive feeling for your parties, dating, clubs, bars, banquets, proposals, weddings, family gatherings and festivals, allow you to have fun with your families and friends.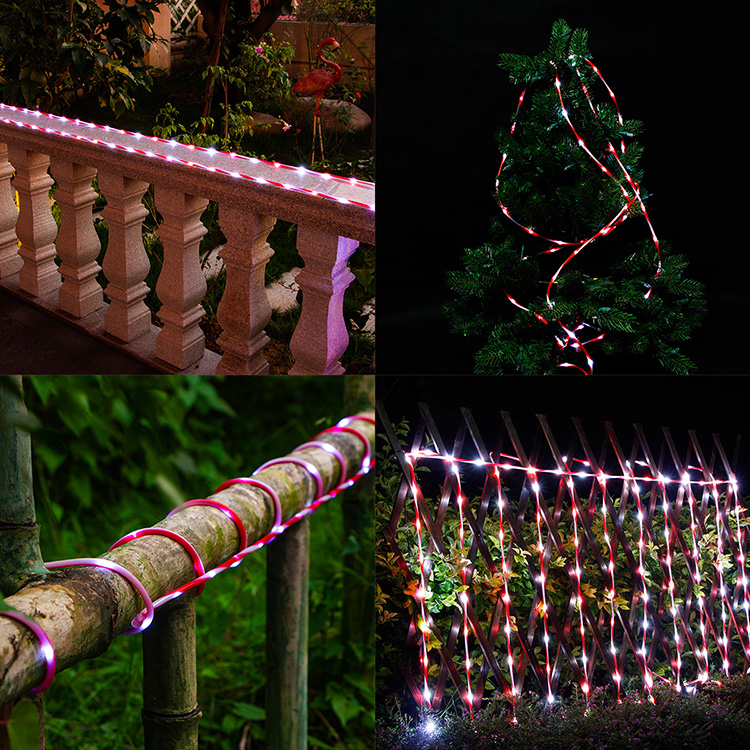 The ZHONGXIN Holiday 16.5 ft. Candy Cane (Red/White) LED Rope Light can be used to brighten up any space. The lights are wet rated so can be used both inside and out. Great for outdoor patios, fences, pool areas, living rooms, bedrooms and office spaces. Mounting hardware included.
High-efficiency LEDs consumes 75% less energy, saving you money
Flexible plastic shell construction is built to last and offers a clean, stylish look
Wet rated - to be used indoors or outdoors
Soft white color temperature - 2200K
Includes a 2 ft. power cord, mounting clips and hardware
Lighted Length: 16.5ft / Lead Cord: 1.5ft / Overall Lenght:18ft
LED Qty: 67 pcs
LED Bulb Spacing: 3 inches
Tube Diameter: 0.24 inches
Power Supply: 3 x AA Battery (not included)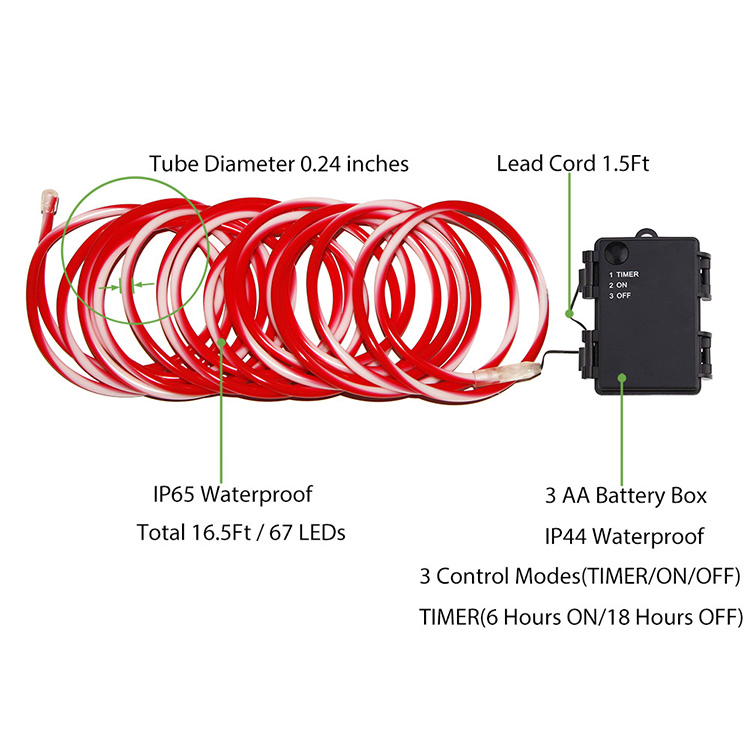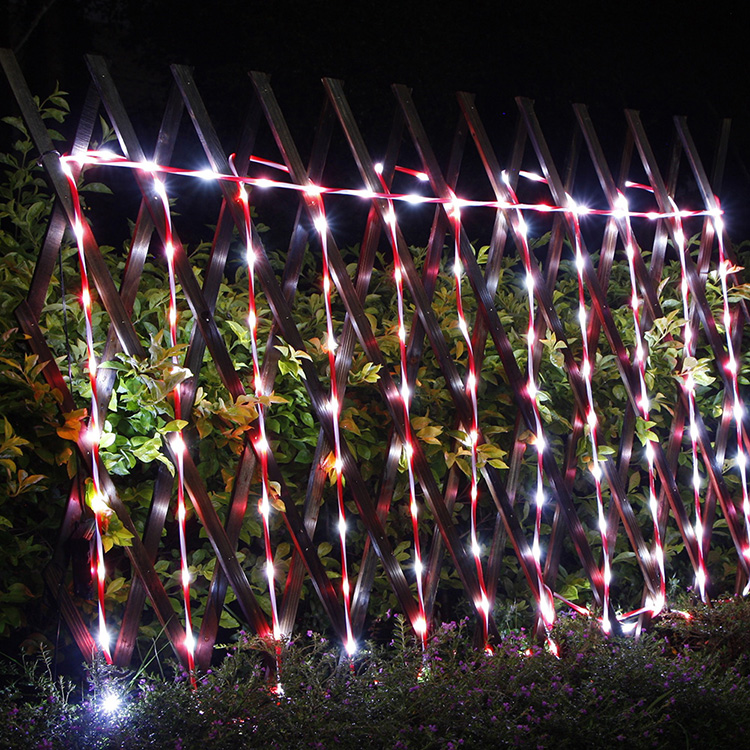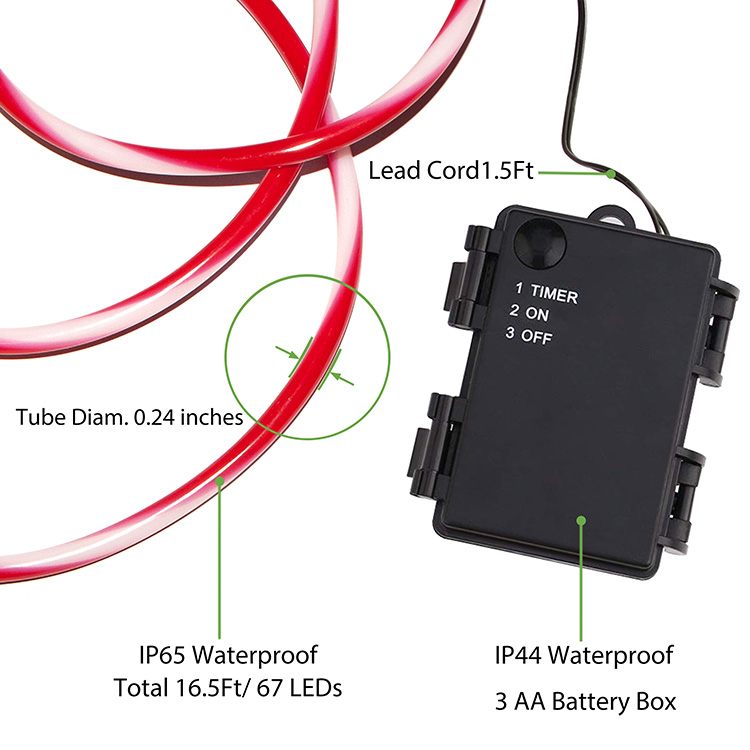 Products related to this item
---
Next:
Wholesale Silver Glitter LED Rope Lights Battery Operated Cool White LED String Lights | ZHONGXIN
---
Q: Can you put rope lights outside?
A: Yes, as long as they are rated for outdoor use, you can put your rope lights outside. 
Q: How long do rope lights last outside?
A: The high quality LED string lights will last for more than 2 years if you use them year-round. 
Q: Which is better strip light or rope light?
A:  LED strip lights shine brighter than the LED rope lights, so they are used for task lighting and display lighting. LED strip lights are dimmable, so they range from low brightness to high brightness.
Q: How long do rope LED lights last?
A: LED rope light uses less energy, which allows for longer runs to be connected together. LED rope light is estimated to last up to 100,000
Q: Which is better LED lights or fairy lights?
A: Recent years most fairy lights are LED. Some china outdoor battery fairy lights factory still uses traditional incandescent bulbs, but LED lights are now more common because they last longer, save energy, and produce less heat.
Q: Which fairy lights are the best?
A: A fairy lights that came from an experienced fairy light factory will be the best, they provide high quality and perfect after-sales services.
Q: Are string lights and fairy lights the same?
A: Fairy lights, or string lights, are a simple yet beautiful way to add light and elegance to a space.
Q: How long do fairy LED lights last?
A: Take proper maintenance and care regularly, your outdoor fairy lights will last up to 50,000 hours.
The import of the Decorative String Lights, Novelty Lights, Fairy Light, Solar Powered Lights, Patio Umbrella Lights, flameless candles and other Patio Lighting products from Zhongxin lighting factory is quite easy. Since we are an export-oriented lighting products manufacturer and have been in the industry over 13 years, we deeply understand your concerns.
The diagram below illustrates the order and import procedure clearly. Take a minute and read carefully, you will find that the order procedure are well designed to ensure that your interest is well protected. And the quality of the products are exactly what you expected.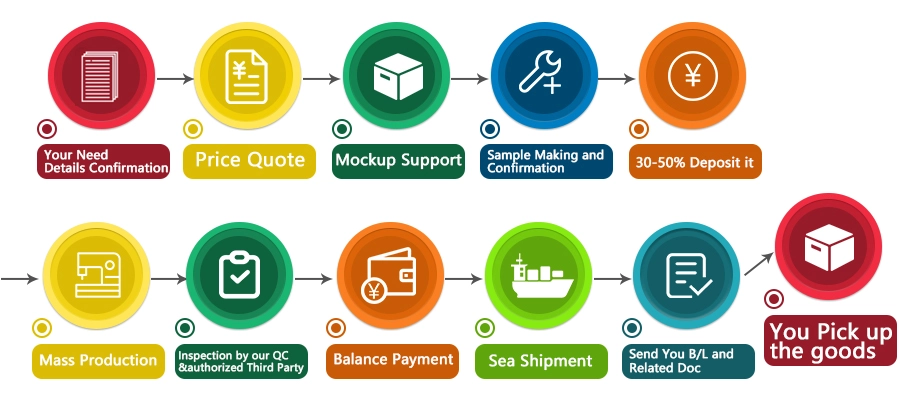 The Customization service includes:
Custom Decorative patio lights bulb size and color;

Customize the total length of Light string and bulb counts;

Customize cable wire;

Customize decorative outfit material from metal, fabric, plastic, Paper, Natural Bamboo, PVC Rattan or natural rattan, Glass;

Customize the Matching Materials to the desired;

Customize the power source type to match your markets;

Personalize lighting product and package with company logo;
Contact us now to check how to place a custom order with us.
ZHONGXIN Lighting has been a professional manufacturer in the lighting industry and in the production and wholesale of decorative lights for over 13 years.
At ZHONGXIN Lighting, we're committed to exceeding your expectations and ensuring your complete satisfaction. So, we invest in innovation, equipment and our people to ensure we are providing the best solutions to our customers. Our team of highly skilled employees enable us to provide reliable, high quality interconnect solutions that meet customers'expectations and environmental compliance regulations.
Each of our products is subject to control throughout the supply chain, from design to sale. All stages of the manufacturing process are controlled by a system of procedures and a system of checks and records which ensure the required level of quality in all operations.
In a global marketplace, Sedex SMETA is the leading business association of European and international commerce that brings retailers, importers, brands and national associations to improve the political and legal framework in a sustainable way.
To satisfy our customer's unique requirements and expectations, our Quality Management Team promotes and encourages the following:
Constant communication with customers, suppliers and employees
Continuous development of management and technical expertise
Continuous development and refinement of new designs, products and applications
Acquisition and development of new technology
Enhancement of technical specifications and support services
Continuous research for alternative and superior materials
Write your message here and send it to us