Boost outdoor ambiance for outdoor parties, or make walking around your yard safe after sunset. So, how can you add lighting without electricity? There are a few ways to power your lights without having an outdoor outlet. The most simple way is to buy lighting that doesn't require an outlet, such as battery operated or solar powered lights. If that's not an option, you can buy some wireless outdoor lighting options to match your needs.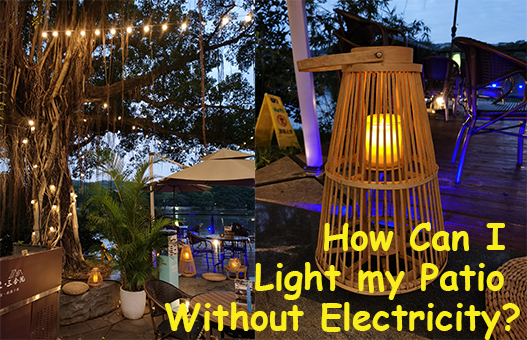 In this article, we've put together a list of the most convenient and practical solutions to light up your home's backyard without electricity.
1. Battery-Operated Umbrella Light
This battery powered umbrella light uses batteries to light up patio umbrella in your yard. It's ideal for when you switch to off-grid lighting to cut electricity costs or when there's an emergency power outage. Battery-operated umbrella light eliminates the need for electrical outlets and tedious wiring.
For the battery to last longer, only use your outdoor umbrella light when needed and switch it off when not in use to avoid draining the battery.
The hot sale ZHONGXIN umbrella light is excellent for your garden, yard, or pathway. Not only is it lightweight and portable, but it also comes to update your old, dusty umbrella with a more modern version.
Our Top Pick:
10 inch Battery Operated LED Umbrella Light with remote control (On / Off Functions)
12pcs G40 E12 Bulbs (each bulb with 3pcs LEDs inside)
4 AA batteries Case (Batteries not included)
fit for 1.125-1.75-inch umbrella poles, CLAMP ON structure, easy installation.
34 LED Umbrella Light fits an umbrella pole from sizes 1.12-1.75" in diameter
Features 26 white warm LED bulbs Downwards, 8 LEDs Upwards.
Lighting Modes: Light downwards, all light on.
Dimensions: Dia. 21 cm
Requires 3 AA batteries (not included)
30 LED Umbrella Light fits an umbrella pole from sizes 1.12-1.75" in diameter
Features 22 white warm LED bulbs Downwards, 8 LEDs Upwards.
Lighting Modes: Light on downwards, light on upwards, all light on.
Dimensions: Dia. 22.5 cm x 7 cm H
Requires 3 AA batteries (not included)
2. Collapsible Solar Lantern Lights
If you want to light up your backyard without extra electricity bills, collapsible solar lantern light is a no-brainer. Further, they're pretty lightweight and easy to set up because no wires or cords are needed.
During the day, solar light batteries store enough energy from the sun's rays so that the light fixtures can provide wireless illumination at night. When the night falls, the photoresist on solar lights detects the sun's absence and automatically activates the lights.
As a result, you get sufficient outdoor lighting to socialize, enjoy a barbecue feast or party with your friends, and see where you're going. Solar lantern lights are an innovative and cost-effective way to add vibrant colors to your outdoor settings.
The NEW design collapsible solar lantern is powerful enough to brighten our whole backyard, allowing you to enjoy its ambiance and beauty at night.
Our Top Pick:
3. Decorate with Candles
Wax candles may be an old way of lighting, but they're a low-cost wireless light source you can always get at your nearest shop. You can use candles for purposes beyond illumination. For example, they can boost mood and create a romantic atmosphere.
If you love candles but hate the traditional naked flame, you can use flame flickering LED candles. They resemble real wax candles, but they're a safe option because their wax does not drip.
Solar Powered candles are a safe, clean and elegant alternative to typical wax or soy burning candles. Our Solar Powered candles make use of LED lights that flicker just like a real flame. They provide the same look and ambiance but without the worry or mess. 
Solar candles produce the same level of romantic atmosphere sans the drips. Does not that sound amazing? Of course, it is. Since these solar candles are water-resistant, you can arrange a dine out outside. To put a cherry on top, these solar-powered candles are environmentally friendly and are highly durable in nature. Moreover, you would not have to worry about fire hazards.
Our Top Pick:
4. Solar Hanging Candle Holder Lights
If you arrange an outdoor dinner or meeting, these lights should be hanging over the table to make your event more beautiful, wonderful, and memorable. They are fixed and adjustable; you can hang the outdoor candle holder light wherever you want, it includes rechargeable solar batteries, so you benefit from energy-efficient and eco-friendly lights in your yard.
Hanging candle holder lights makes any event more beautiful, and they are solar lights, operate with the help of sunlight and provide us light, and can work for a long time.
Our Picks: These lights come with one year warranty and are also IP44 waterproof. Hanging lanterns are those lights that will hang from the ceiling with the help of their chain. They are solar lights that take their power from the sun and give us light.
Our Top Pick:
5

.

Solar Powered

Outdoor String Lights
A solar-powered outdoor String lights provides endless options for designing your gazebo, deck, patio, or any area outside without incurring electricity costs. This eco-friendly and energy-efficient outdoor light helps you add a "wow" appeal to all of your home's exterior elements.
Additionally, it offers much-needed light to darkened outdoor spaces at a fraction of the traditional lighting price. What's more, you can hang the decorative outdoor lights string wherever you want.
Our Top Pick:
Final Thought
As you've just seen, you don't need electricity to light up your favorite outdoor space. Whether you want to illuminate your dark backyard for security or fun, there's a non-electric lighting option to suit your needs. So, let there be light!
---
Post time: May-20-2022