String light decoration has become a trend, and the best way to decorate your outdoors is by using indoor outdoor solar string lights, which are easy to set up. They also don't require long power cables and help to cut down your power bill.
What are solar string lights?
Solar string lights are lights used for decoration featuring small light bulbs linked together by a cord or cable. They draw power from a battery that gets charged by a solar panel at one end of the string lights. The solar panel converts sunlight into energy to charge a battery.
You can use these solar string lights to bring ambiance and cozy feeling inside or outside the house. You can also use them to light the way in the garden, patio, or deck. As well to decorate a Christmas tree, on occasions like weddings, birthday parties, and other holiday decorations.
What Are The Benefits and disadvantages of Solar Lights?
There are many advantages to using solar strings as compared to conventional lights. However, there are a few disadvantages that you should also know about solar string lights.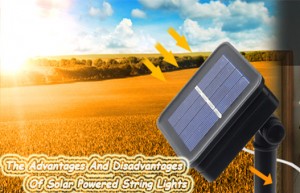 Benefits of using solar string lights
Solar string lights use renewable energy, and thus, it is more eco-friendly. They help in saving the environment. On the other hand, conventional lights rely on traditional power sources. You can place solar string lights anywhere, as they don't depend on the availability of power sources.
Solar string lights use LED bulbs, which consume less energy and are brighter than normal bulbs. The LED bulbs are more durable and also come with protective films and covers to prevent damage from extreme weather elements.
Solar LED string lights are easy to use anywhere, any time. You can lap them around a bush, tree, fence, or the roof. Traditional string lights are bound to the length of the cord and the power source access.
The connecting cords in solar lights are made of aluminum/copper and ABS plastic material, which are more durable and weather-resistant.
Disadvantage of using solar string lights
Solar string lights are more costly than conventional lights which would discourage many people from buying them.
The other demerit is that they fully depend on the sun and can't work well without enough sunlight. They require enough sunlight to light at night; thus, they are not suitable for cloudy climates areas.
Frequently asked questions about solar light decoration
Q1: What's the duration of batteries on solar string lights?
Batteries depend on your consumption, but normally, the solar string lights last for about 2 years or three years when used properly.
Q2: What is the minimum charging time with solar string light?
Solar string light needs at least 5-8 hours of strong and direct sunshine to charge. But normally it takes 8 hours to charge fully.
Q3: Can winter affect the solar string lights?
Indeed you have to read the package of specific string light to check if it can handle the present weather of where you reside. However, some solar string lights are durable and can handle cold or wetness.
Q4: Are the batteries rechargeable on cloudy days?
Not really, because it might take the whole day to charge, unlike during sunny days that take 4–6 hours because they directly come into contact with the sun rays.
Q5: Is it possible to charge solar lights indoors?
Somehow, yes, because some solar lights are indoor use, but charging them inside is a bit difficult. However, fluorescent and incandescent lights help the panel to charge the battery that might light up but not like the use of actual sunlight.
Hot Wholesale Solar String Lights You Like:
---
Post time: Dec-03-2022