What to look for in wholesale decorative lights? Here are a few things to think about before Wholesale decorative lights for retail project:
Know why they are so popular?
To generate a cozy ambiance in one's living space
The main function of the decorative light string is not to provide light, instead of decorating a place and creating a magical and comfortable feeling, especially when the environment is not too bright. The light has been fine-tuned to make the surrounding houses more beautiful. This is why homeowners now place string lights on other decorative pieces such as green plants, furnishings, or gazebos in living rooms, home offices, patios, and yard, etc. This setting usually brings space. The effect is effective relaxation, giving you peace of mind.
To create a better ambiance for parties and other social gatherings
String lights are used outdoors every day. Social activities and places like weddings, reunions, parties, etc. These lights give warmth to the environment, helping the participants feel relaxed and acclimatizing with the sociality of the get-together.
Cheap and convenient, bringing huge magical effects
In the early days, decorative lights were relatively expensive, so that only the upper class could afford them. But now, almost anyone only needs to spend a few dollars. Because of its greatly reduced cost, fairy lights or decorative lights are now more popular than ever before. widely used. You can buy truly amazing and magical items.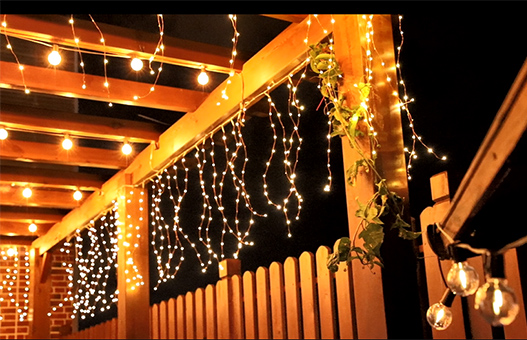 One other reason why people are so into string lights is that they consume very little power as compared to functional lights. The primary purpose of decorative lights is enhancing aesthetics; therefore, light production is reduced, thereby reducing its overall wattage. As well, string lights are manufactured using energy-efficient LED light, which uses up to 70% less energy and lasting about 10 times as long as common incandescent bulbs. Some string lights are even powered by solar panel, which charges up automatically under sun lights and lights up when it gets dimmer. This translates to low electric bills and greener way of living.
---
Post time: Oct-29-2022