Wholesale Rattan String Lights Outdoor Waterproof Decoration Light Supply | ZHONGXIN
Product Detail
FAQ
Customization Process
Quality Assurance
Product Tags
If you're looking for high-quality and affordable decorative outfit string lights - you'll find the best decorative outfit string lights at great prices on ZHONGXIN. A wide range of available colours & materials in our catalogue. Inquiry now.
Commercial Quality:
UL Listed for Indoor & Outdoor Use.
Each outdoor rattan string lights set is packed with One (1) spare fuse and four (4) spare mini bulbs
Connectable:
Each rattan string has End-to-End Connector (Connectable up to 22 same-set strands).
Easy to Use and Low Consumptions:
Power Source: Plug-In
Wattage: 0.96W per bulb / 9.6W per string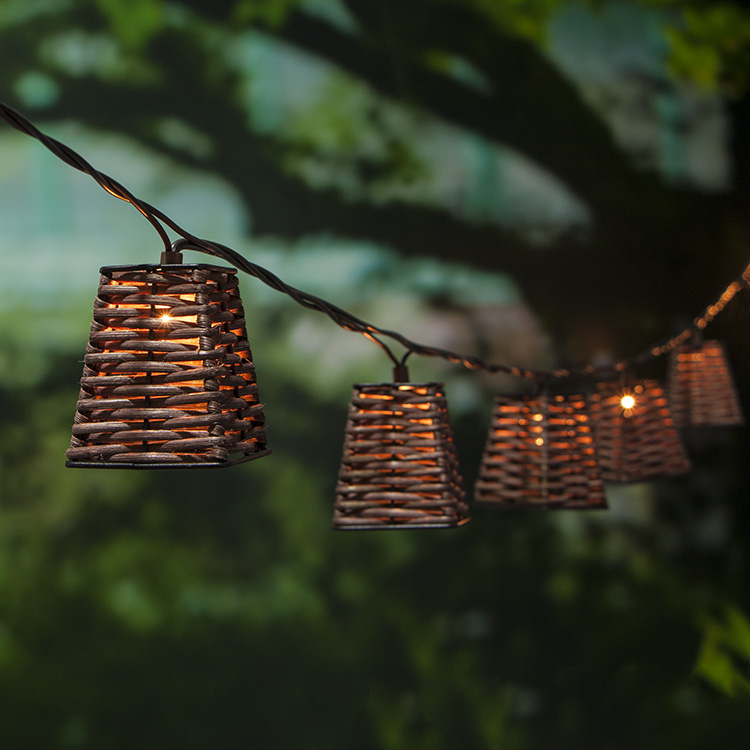 FEATURES:
1. The plug in rattan string lights, made of 10 warm white mini bulbs in brown wire. Each bulb adorned with a brown rattan shade for extra cheer. Add an inviting ambiance to your casual outdoor family-time or entertaining guests with these natural rattan string lights.
2. Undoubtedly, it is a great way to illuminate indoor-outdoor events while creating a warm & comfortable atmosphere.
3. It's soft light and authentic look great for all occasions: Home, Bedroom, Living Rooms, Patio, Restaurant, Bar, Coffee, Shop, Clothing Stores, Party, Wedding, Holiday, Hotel, Shopping Center, Festival Decoration, Backyards lighting, Gazebos Lights, Patios, Gardens, Pergolas, Decks, Dinner Parties, City Rooftops, Weddings, Entertainments, BBQ, Holidays and more.
| | |
| --- | --- |
| | String Lights with Rattan Covers |
| | Warm white incandescent |
| Colors | Brown |
| Light Count | |
| | |
| | 120 Volts, 9.6 Watts, 0.08 Amps |
| | |
| | 8 feet, 6 inches |
| | |
| | |
| | UL / CUL Listed for Indoor & Outdoor use |
| End-to-End connectable | Yes, up to a total of 22 strands |
| Accessories | Includes (4) spare bulbs and (1 ) fuse |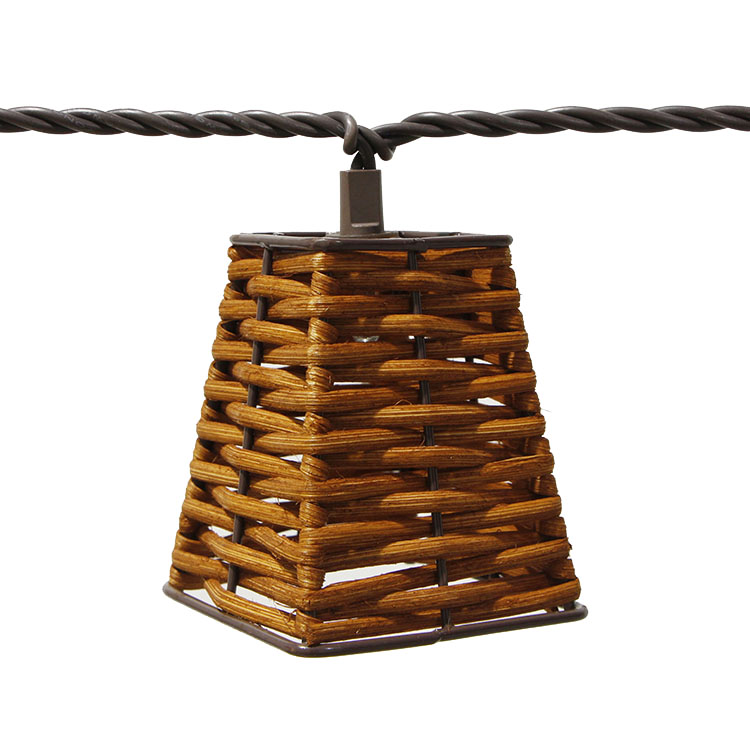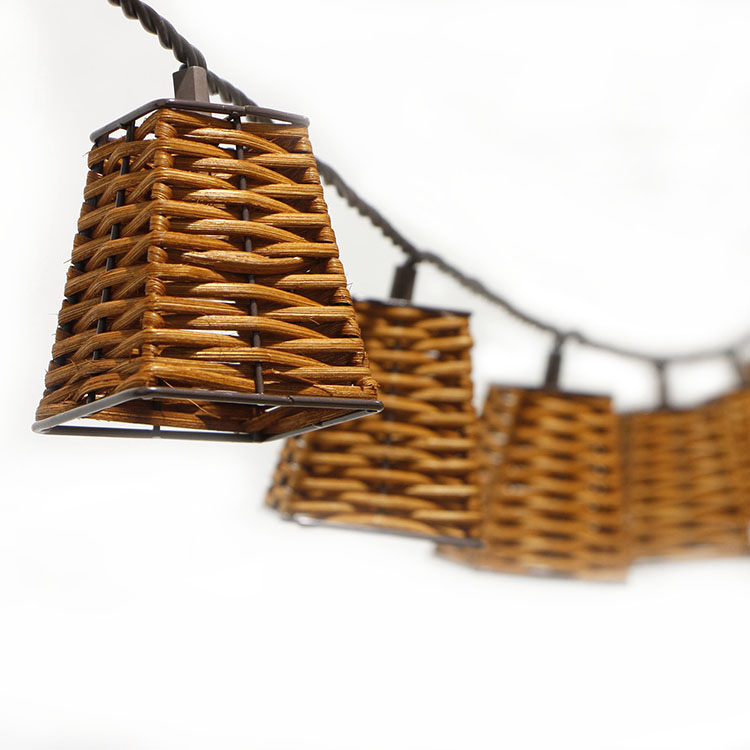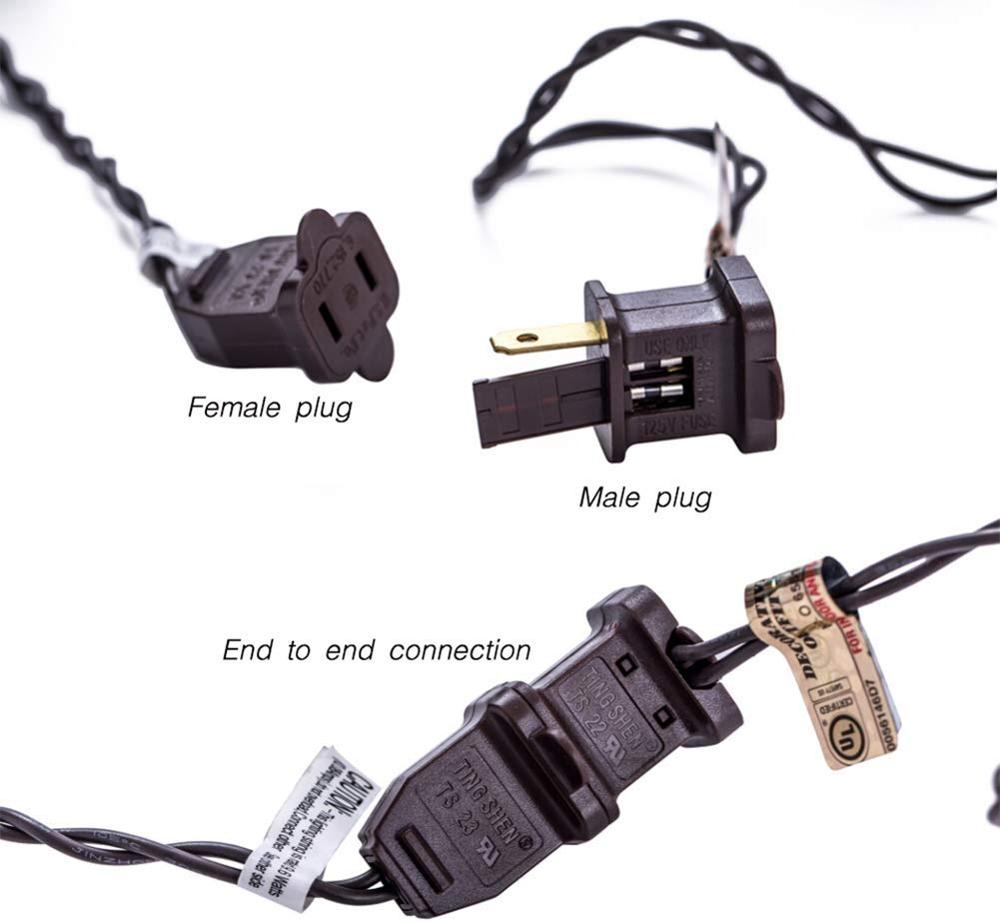 Products related to this item
---
---
Q: How do you hang string lights outside?
A: String lights are a creative way to add a unique dash of ambiance and atmosphere to your backyard, hanging them from trees is perhaps the most straightforward method because they are tall and allow you to use quite a few lights.
If you love string lights decorating your backyard area but have few or no trees there, read on to look for some tips on hanging outdoor string lights without trees.
Q: Can you leave outdoor string lights out in the rain?
A: Outdoor string lights can get wet. You need to look at the IP (Ingress Protection) rating of these lights before buying them.
Q: Can you leave string lights out in winter?
A: Some rattan outdoor string lights are specially designed to be weatherproof and can be hung out all year round. Though most outdoor lights are weatherproof, you should check the wire and lights once a year and try to install them in a cool, dry place if possible to help them last longer.
Q: What are the best lights for outdoor?
A: The outdoor light string that best suits your needs is the best, contact experienced lighting manufacturer to customized your needs.
Q: Can you leave Rattan lamp string lights out in the rain?
A: As long as you're using "outdoor" lights, it's safe to leave them in the rain as they're built to brave the environment. However, with a connection of string lights, a heavy downpour can blow up the individual fuse in each string light. This usually happens when water bridges the prongs on the plug.
Q: How do you protect outdoor lights from rain?
A: One of the easiest ways to protect waterproof outdoor lights is to apply an extra silicon seal (caulk) during installation. There are other methods such as choosing high IP-rated fixtures or using light shields. In addition to a watertight lamp, you also want the outlet to be secure.
Q: Do string lights need to be plugged in?
A: Yes the product was designed to be plugged in, and end to end connectable up to 216 Watts max.
Q: What happens if you string too many lights together?
A: Because light strings have a maximum wattage capacity, which is why many string lights come with a little fuse just in case you connect too many together at once. The fuse is designed to blow so you don't overload and damage your lights.
Q: Can I shorten outdoor string lights?
A: Not all string lights are designed to be cut or shortened. Outdoor light strings with male and female end plugs are meant to be connected end to end. Shortening these lights voids the safety rating and can cause the string to no longer work.
The import of the Decorative String Lights, Novelty Lights, Fairy Light, Solar Powered Lights, Patio Umbrella Lights, flameless candles and other Patio Lighting products from Zhongxin lighting factory is quite easy. Since we are an export-oriented lighting products manufacturer and have been in the industry over 13 years, we deeply understand your concerns.
The diagram below illustrates the order and import procedure clearly. Take a minute and read carefully, you will find that the order procedure are well designed to ensure that your interest is well protected. And the quality of the products are exactly what you expected.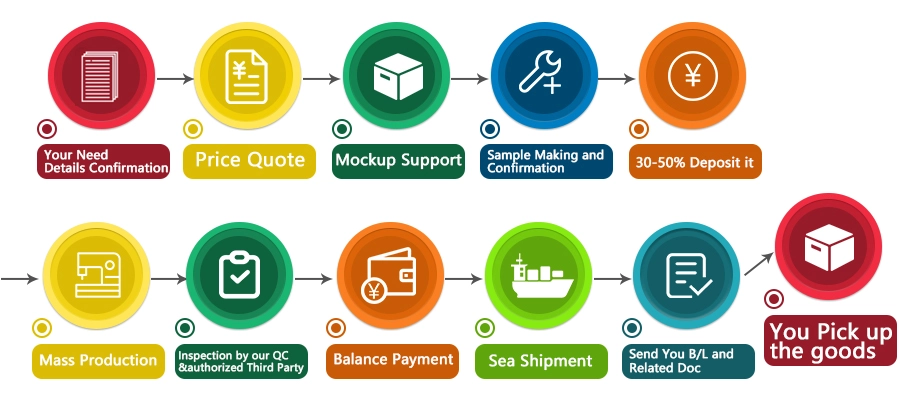 The Customization service includes:
Custom Decorative patio lights bulb size and color;

Customize the total length of Light string and bulb counts;

Customize cable wire;

Customize decorative outfit material from metal, fabric, plastic, Paper, Natural Bamboo, PVC Rattan or natural rattan, Glass;

Customize the Matching Materials to the desired;

Customize the power source type to match your markets;

Personalize lighting product and package with company logo;
Contact us now to check how to place a custom order with us.
ZHONGXIN Lighting has been a professional manufacturer in the lighting industry and in the production and wholesale of decorative lights for over 13 years.
At ZHONGXIN Lighting, we're committed to exceeding your expectations and ensuring your complete satisfaction. So, we invest in innovation, equipment and our people to ensure we are providing the best solutions to our customers. Our team of highly skilled employees enable us to provide reliable, high quality interconnect solutions that meet customers'expectations and environmental compliance regulations.
Each of our products is subject to control throughout the supply chain, from design to sale. All stages of the manufacturing process are controlled by a system of procedures and a system of checks and records which ensure the required level of quality in all operations.
In a global marketplace, Sedex SMETA is the leading business association of European and international commerce that brings retailers, importers, brands and national associations to improve the political and legal framework in a sustainable way.
To satisfy our customer's unique requirements and expectations, our Quality Management Team promotes and encourages the following:
Constant communication with customers, suppliers and employees
Continuous development of management and technical expertise
Continuous development and refinement of new designs, products and applications
Acquisition and development of new technology
Enhancement of technical specifications and support services
Continuous research for alternative and superior materials
Write your message here and send it to us