Solar Powered Fabric Lantern String Light Wholesale | ZHONGXIN
Product Detail
FAQ
Customization Process
Quality Assurance
Product Tags
2 Work modes selection:
Constant lighting and flashing mode; estimated working time: 6-8hrs after full charge.
Energy Efficient 
Solar Powered, 99% energy saving than traditional Christmas string light.
Wide application:
Christmas and other holidays' ornament, used indoor or outdoor with cautions.
Flexible layout:
10 lights/set, fabric lantern: 3 inch; continues to work even one of the light burned out or missing.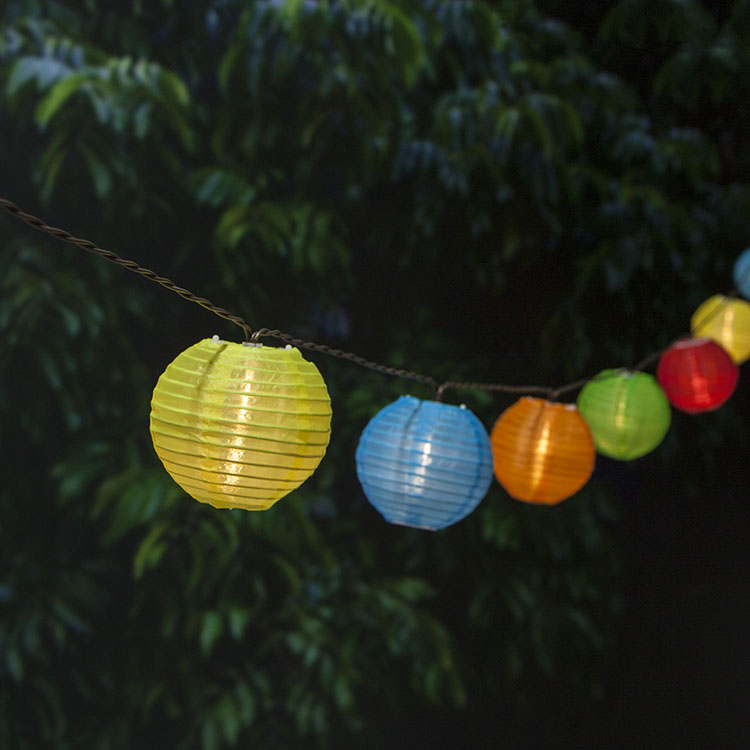 FEATURES:
1. The mini led lights for fabric lantern, made of 10 warm white mini LED bulbs, add an inviting ambiance to your casual outdoor family-time or entertaining guests with these solar powered fabric lantern string lights.
2. Undoubtedly, it is a great way to illuminate indoor-outdoor events while creating a warm & comfortable atmosphere.
3. It's soft light and authentic look great for all occasions: Home, Bedroom, Living Rooms, Patio, Restaurant, Bar, Coffee, Shop, Clothing Stores, Party, Wedding, Holiday, Hotel, Shopping Center, Festival Decoration, Backyards lighting, Gazebos Lights, Patios, Gardens, Pergolas, Decks, Dinner Parties, City Rooftops, Weddings, Entertainments, BBQ, Holidays and more.
Whether you arrange them for your everyday outdoor living space décor or for special events like birthday parties, outdoor dinner parties, or weddings, these decorative hanging outdoor solar lights are sure to create a memorable impression.
| | |
| --- | --- |
| | novelty party string lights |
| | Warm white / Multicolor |
| Colors | Multicolor |
| Light Count | |
| | |
| | |
| | 12 feet |
| | |
| | CE / RoHs / UL / CUL Listed for Indoor & Outdoor use |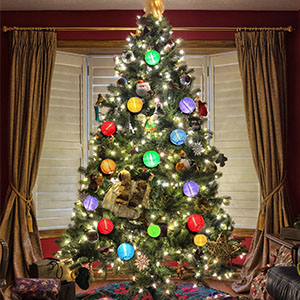 Use as Christmas lights 10 count. The solar lantern string lights can be hung on Christmas tree, bedroom, kitchen or any other places you want.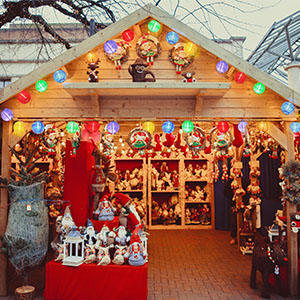 These solar led lantern string lights can be used to decorate shopping malls, coffee, bars restaurant and so on. Create a beautiful and romantic ambiance for your store that is sure to impress all of your consumer.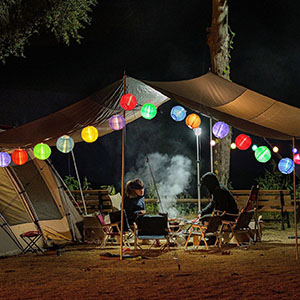 These solar string lantern lights can be used as decorative camping lights create an elegant atmosphere right in your camping nights.
Solar Powered Lantern String Lights, China CE led lights wholesale product video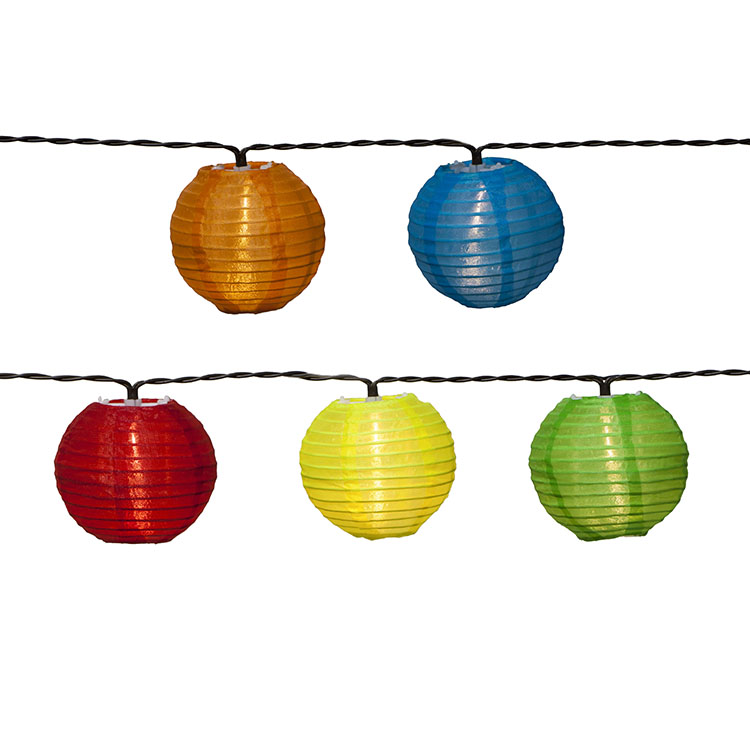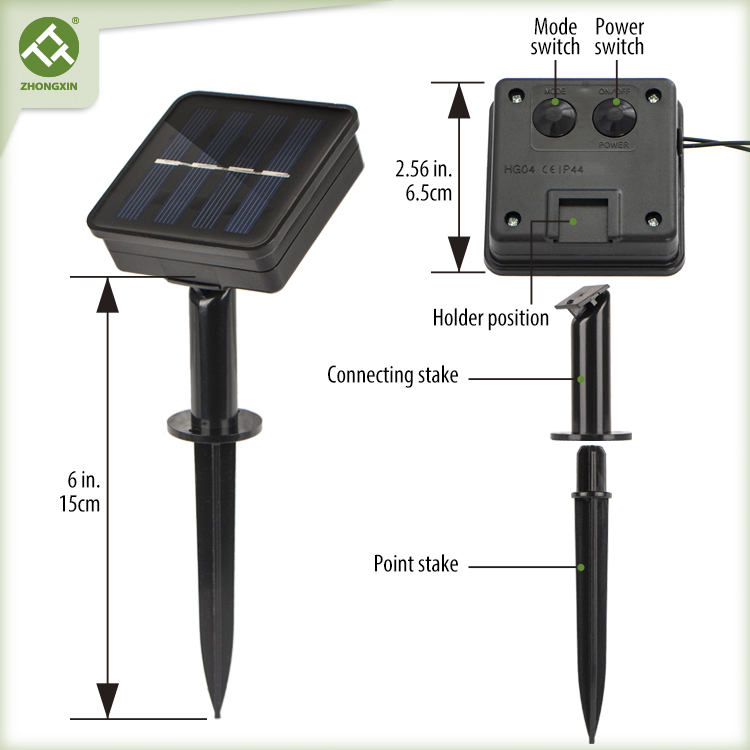 Products related to this item
---
---
Q: How long is a 100-count string of lights?
A: The length of a string light depends on the bulb spacing, take 8 inch bulb spacing string light for example, total lighted length would be 66 ft.
Q: How many LED light strings can I connect?
A: This 10 count led string lights do not support connect.
Q: How many string lights do I need calculator?
A: Once you have identified the best approach for your space, simply measure out the design on the ground. Be sure to add two to six feet for every run to give it a natural look.
Q: How long is a 100-count strand of Christmas lights?
A: The length of a string light depends on the bulb spacing, if it is 4 inch bulb spacing string light, total lighted length would be 33 ft.
Q: Is there solar powered fabric?
A: Solar fabric, unlike classic panels, can be bent or glued to any type of surface, lightweight and long lasting.
Q: What is solar fabric used for?
A: can be used to create canopies and other shaded gathering places where building occupants can relax while they recharge their devices.
Q: Who invented solar fabric?
A: fabric designer Marianne Fairbanks made solar-charged handbags.
Q: How does outdoor solar lighting work?
A: Solar-powered lights each contain a solar cell, Ni-Cad rechargeable battery, LED light and photoresistor. Essentially, each light's solar cell produces energy, which charges the battery during the day. Solar-powered lights stop producing energy at night, so the photoresistor, which detects the absence of light, activates the battery, which turns the LED light on.
Q: Can solar fabric lantern string lights get wet?
A: Yes, most well-manufactured solar lights can get wet. Long-lasting designs are typically able to handle ordinary outdoor rainfall. 
Q: Can you use normal batteries in outdoor solar lights?
A:  Yes, many outdoor solar lights accept rechargeable AA or AAA batteries to power lanterns or property lights. Use only rechargeable batteries instead of normal batteries.
Q: What to do if my novelty party string lights does not work?
A: Firstly, check the switch and make sure it is "ON". Secondly, make sure the solar panel not affected by ambient light, it should be in dark ambient. If still not work, contact local retail store where you purchase it or contact the manufacturer at ZHONGXIN 
The import of the Decorative String Lights, Novelty Lights, Fairy Light, Solar Powered Lights, Patio Umbrella Lights, flameless candles and other Patio Lighting products from Zhongxin lighting factory is quite easy. Since we are an export-oriented lighting products manufacturer and have been in the industry over 13 years, we deeply understand your concerns.
The diagram below illustrates the order and import procedure clearly. Take a minute and read carefully, you will find that the order procedure are well designed to ensure that your interest is well protected. And the quality of the products are exactly what you expected.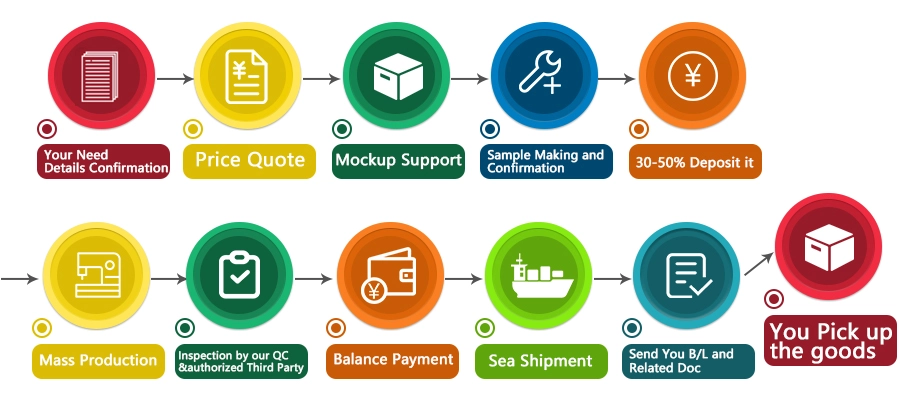 The Customization service includes:
Custom Decorative patio lights bulb size and color;

Customize the total length of Light string and bulb counts;

Customize cable wire;

Customize decorative outfit material from metal, fabric, plastic, Paper, Natural Bamboo, PVC Rattan or natural rattan, Glass;

Customize the Matching Materials to the desired;

Customize the power source type to match your markets;

Personalize lighting product and package with company logo;
Contact us now to check how to place a custom order with us.
ZHONGXIN Lighting has been a professional manufacturer in the lighting industry and in the production and wholesale of decorative lights for over 13 years.
At ZHONGXIN Lighting, we're committed to exceeding your expectations and ensuring your complete satisfaction. So, we invest in innovation, equipment and our people to ensure we are providing the best solutions to our customers. Our team of highly skilled employees enable us to provide reliable, high quality interconnect solutions that meet customers'expectations and environmental compliance regulations.
Each of our products is subject to control throughout the supply chain, from design to sale. All stages of the manufacturing process are controlled by a system of procedures and a system of checks and records which ensure the required level of quality in all operations.
In a global marketplace, Sedex SMETA is the leading business association of European and international commerce that brings retailers, importers, brands and national associations to improve the political and legal framework in a sustainable way.
To satisfy our customer's unique requirements and expectations, our Quality Management Team promotes and encourages the following:
Constant communication with customers, suppliers and employees
Continuous development of management and technical expertise
Continuous development and refinement of new designs, products and applications
Acquisition and development of new technology
Enhancement of technical specifications and support services
Continuous research for alternative and superior materials
Write your message here and send it to us